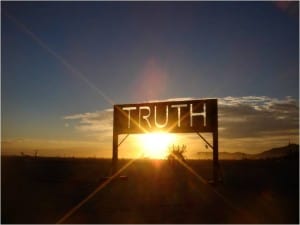 Whether you adhere to a specific ethical or moral code or follow a traditional religion, the fundamental principles are similar, and can be summarized around the golden rule; that is, treating others as you would like them to treat you or in the negative form, not treating others in ways that you would not like to be treated. You can think of examples like not hurting others or not stealing from them, not lying to them, but this negative from misses to cover the contradictions we have in our personal or professional lives. Because not stealing or not lying is not good enough. Even if you are not lying you might be giving false impressions, whether deliberate or not, or you might be silently ignoring the wrongdoing revolving around you. What is required is to stand up and speak the truth: fully inform the public with the facts.
Speaking the truth to power is always a challenge because doing so mostly entails danger. It is a litmus test both for your integrity and also your courage, as it is not sufficient to silently disagree or disobey the false order, it also requires you to express yourself, explain the facts and try correcting the judgmental errors of those who hold the power. In most cases you need to do this despite the risk of losing your job, your business, your status in the society, and your friends. Moreover, if you are questioning decisions of an authoritarian power, the cost could be much more deadly. The history and even today's news is full of such horrific examples.
Hizmet movement, and the people or institutions affiliated with Fethullah Gulen are the victims of such tragedy, since the beginning of their existence but more than usual for the last couple of months. Fethullah Gulen is known for speaking his mind no matter what the political conjecture is or how the popular media labels and libels him. Of course he dearly paid the cost of this truth-telling with many false allegations followed by years of trials and tribulations. Similarly he did not mind being politically incorrect when he raised his voice about the ongoing governmental corruption. Without violating the presumption of innocence, he said these allegations should be investigated thoroughly, and whether wrongdoers are affiliated with a political party or the Gulen movement, should be brought to justice. Considering the continuous defamation against him, he once even condemned all wrongdoers without excluding anyone even if they are somewhat affiliated with Gulen himself.
This practice is advised in the Holy Quran as "After the (true) knowledge has come to you, whoever still disputes with you about him (Jesus), say (in challenging them): "Come, then! Let us summon our sons and your sons, and our women and your women, ourselves and your selves, and then let us pray and invoke God's curse upon those who lie." (3:61) Instead of saying amen to this prayer, the current regime started a witch hunt that caused reassignment of many prosecutors and police chiefs as they dared to investigate the governmental corruption and therefore said to be affiliated with the Gulen movement
Finding and telling the truth is always hard work for, often, we must get our own facts right and learn the truth for ourselves before telling it to others. We need to think with our hearth and consciousness for sometimes our minds may play us by concealing some parts or aspects of the truth and even justify this wrong behavior for the sake of a -so called- better cause. Qur'an is very clear on this though, as it commands: "Do not confound the truth by mixing it with falsehood, and do not conceal the truth while you know (2:42). In another verse, Qur'an warns us all about speaking the truth even if it hurts us too:
"O you who believe! Be upholders and standard-bearers of justice, bearing witness to the truth for God's sake, even though it be against your own selves, or parents or kindred. Whether the person concerned be rich or poor, (bear in mind that) God is nearer to them (than you are and more concerned with their well-being). So do not (in expectation of some gain from the rich or out of misplaced compassion for the poor) follow your own desires lest you swerve from justice. If you distort (the truth) or decline (to bear truthful witness), then know that God is fully aware of all that you do" (4:135). In our consciousness we can feel and tell this to a certain level, but putting it into action requires the level of integrity, sincerity and bravery of men like Fethullah Gulen. Thanks to him and the Hizmet movement, there are still people risking everything and speaking truth to power so that the country and globe can keep its consciousness.