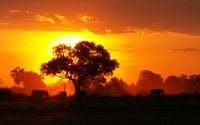 My first stop during this second visit to Africa was Nigeria – the largest country by population with some 155 million people. Within a few days I also realized it was one of the busier Hizmet hubs amongst all the African countries I have visited.
Nigeria has approximately 1000 Turkish expats -predominantly teachers, professionals and business people and their families. It is estimated that 60% – 70% of them are linked or associated with the Hizmet Movement
The first organization we visited, was the almost complete Nizamiye Hospital (see photo) in Abuja. It was to house 100 beds and be a general hospital for the local community. The emphasis of the hospital will be to provide quality healthcare services, before profits. They hope to open by mid-year 2013. The Chief Medical Officer mentioned that this project had been a role model for others, and now similar projects were being considered in Uganda and Somalia, amongst other countries.
Ibrahim Abubakar Jega the Executive Secretary (see photo) of the Abuja National Mosque was our next visit. This beautiful structure is one of the largest mosques in Nigeria. Mr. Jega spoke highly of the Movement and Gulen, "the message of tolerance and understanding is very important and the book 'Love and Tolerance' (by Gulen) is a great resource… (it is) a well-worn out book." He spoke on one occasion of a 30 person Christian delegation, who came to meet with him, and it this book that was presented to them. He also mentioned that Gulen's Messenger of God: Muhammed was a critical and enlightening text that was being translated to the Hausa language that is spoken by people in Nigeria, Niger, Chad, Sudan, Cameroon and Congo amongst numerous others. Such a work is important, as Gulen's presentation of the Prophet Muhammed presents a clear and fresh look at the most important figure in the Islamic tradition. Gulen also highlights the positive and constructive relations between the early Muslims and the various groups of non-Muslims -pagans, Jews and Christians.
Regarding Gulen's Islamic discourse, Jega said, "we learn a lot from the works of Fethullah Gulen, when we follow his suggestions we gain a great deal." Indeed, these are most important words coming from the National Mosque's Executive Secretary.
The Nile University (see photo) is the only Hizmet university currently in the African continent. It is a new project, started only 4 years ago, with 500 students currently enrolled, of which, 75 students will be the first set of graduates later this year. The school's eventual capacity will be 10,000 students. It is an enormous campus, covering some 280 acres with a river that flows through the center (and hence, I suspect the name!). It currently has three faculties, but will increase to house more, including Law and Medicine. Most interestingly, and to serve the wider public, the university will include a large shopping complex (mall), hotel and an International Conference Center, providing an alternative revenue stream to that of the educational fees. Of the 500 students, 40 are of Turkish background – the majority young women. I was curious as to why it was skewed towards females – particularly when Turks tend to be socially conservative, and traditionally some parents might not send their girls between cities or provinces for a university education. When I asked one of the professors as to why this was so, he said the following: "Most of the girls here, and their families, are associated with or respect the activities of the Hizmet Movement, hence they have bonded with the ideals and trust the mission and intent of such institutions and the people that work and volunteer for them – when this is the case, parents have no doubt their children will be taken care of, no matter where they are in the world". This is particularly all the more surprising, as there is a travel advisory by the US Department of State warning against travel to Nigeria.
This simple example reflects well the trust that people develop towards those involved in the Hizmet Movement, and the role-on effect it has when parents entrust their children to those individuals and institutions no matter where in the world they are, how far away from home they are, or even if their surroundings may be precarious.