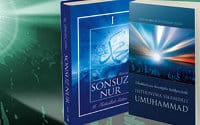 Fethullah Gulen is a global intellectual and the proof of that is his work. Mr. Gulen has more than 60 books published in Turkish and many of those have been translated to other languages. His unique approach to the life of Islam's Prophet Muhammed (Peace be Upon Him) was published as "Sonsuz Nur" or "Infinite Light." It is now available in Zulu which is spoken in South Africa and four other countries.
"Sonsuz Nur" (Eternal Light), a Turkish-language book about the Prophet Muhammad, has been translated into the Zulu language.
Written by Fethullah Gülen, a Turkish Islamic scholar, the highly praised book is published in several different languages by Tuğra Books. Officials from the publishing house said their translation of Gülen's books started with "Sonsuz Nur."
Tuğra said they have translated his books into various languages, either by their own initiative or in cooperation with other local publishing houses.
"Sonsuz Nur" has been translated into 27 languages thus far. The latest translation was into Zulu, which is spoken in five countries, primarily South Africa.
The company said efforts to translate the book into even more languages continue. They also added that "Sonsuz Nur" is the second most popular book, after translated versions of the Quran, released by the publishing house.